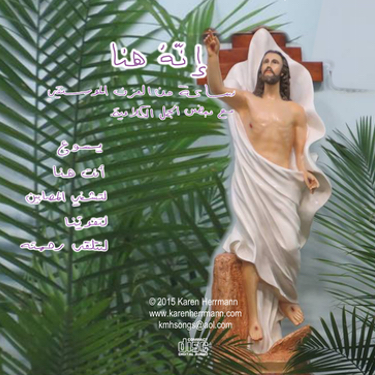 HE IS HERE was recorded in 2009 (in English)
INNAHU HUNA, in late 2015 (same music but in Arabic)


INNAHU HUNA came about from my desire to minister to Arabic speakers with the music of HE IS HERE, a one-hour CD of quiet meditative music with the following phrases ……Innahu huna ----He is here
Yasua……………….Jesus
Enta huna………...You are here
Letushfi almusabeen…….to heal the hurts
Letukaweena ………… to strengthen us
Lenatalaka rahmetahu……..receive His mercy

Through love of our son-in-law, who is Syrian, has come an appreciation for the Syrian people. Through my friendship with Bishop Saad Sirop Hanna, a holy man of God, I have come to know some Iraqis. So many in their countries and others are caught up in the genocide that is destroying lives and a culture. Let us stand with all who are persecuted for their faith and pray fervently for them

To those who speak Arabic… I pray this CD will bring the presence of the risen Jesus to your hearts… that you will experience comfort and His healing touch, a greater strength and an outpouring of mercy flowing from His great love for us…and peace…...

(…Still working on the site!)

---
New CD by Karen Herrmann!
It Is Jesus!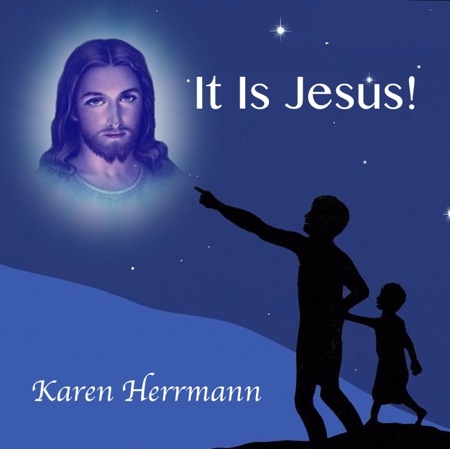 Click to purchase!

JESUS LOVES YOU. HE WANTS TO BE YOUR BEST FRIEND, GIVE YOU PEACE, HEAL YOUR HURTS AND LEAD YOU TO HEAVEN. DO NOT BE AFRAID OF THE ONE WHO GAVE HIS LIFE FOR YOU!

Over 2 years ago, I began recording the songs for this CD. It's my desire to help folks to know Jesus or to know Him better…..and to praise Him. At 17, I said a simple prayer "Jesus, I want You to live in my heart. I want to follow You and I want to experience the Holy Spirit that I received at Baptism and Confirmation." That simple and very heartfelt prayer was answered and has changed my life. The year was in 1967! I bought a guitar, and from that time until the present, the Holy Spirit's most prominent gift to me has been composing.

I have many venues in which to sing, play and join others in praise and worship of the wonderful God Who made us, but the venue that has blessed me and allowed me to expand the most is in recording the music I have written. With a file drawer of music. I began in 2006, at Innovation Studios, in Steubenville,OH with Mike Ofca as the producer and the one who puts so much delicious sound to my songs. I have joked about how he will one day have to build a ramp up to the studio door as I wheel my chair up and tell him "I'm on the Z,s……we are almost done!!" This time in my life is full of surprises and very exciting!!!

As IT IS JESUS! began to take shape two years ago, more songs were written making a total of 17. St. Agnes, St. Clare of Assisi, and St. Jerome all had some part in 3 songs and Fr. Jim O'Connor in WV, was co-composer of May I Never Boast, the Steubenville Youth Conference Theme Song in 1980!!!
One year, after I began recording this CD, I learned about the ministry of ChristLife, where people are introduced to Jesus! Very interesting, I thought, that I would be inspired to do a CD of music with the same theme. So as I proceed, I have no idea how God intends to use the music on IT IS JESUS! I just have to follow His lead, plant the seed and let Him do the rest. As one song. Our Part, says,from St. Jerome's words.....It is our part "to make a beginning, His to bring it to completion. Ours to offer what we can, His to finish what we cannot." And my response to St. Jerome…."So we seek, we begin, we offer what we can!"

Come join me………

Discover Jesus
1 It Is Jesus -Wondering, questioning… Who is He?
2 I Saw One -His rule is eternal and He died for me?
3 Gentlest Shepherd -He looks for me?
4 Take Me, Make Me -I'm coming Jesus.
5 King of Love -He rejoices over me!!!
Follow Jesus
6 Names -I begin to know God in new ways.
7 Stir Up Our Hearts -I need Him, to go forth in my walk.
8 By Your Holy Cross -Seeing the cross' power leads me to praise.
9 Touch Us Now -Healing and mercy leads me to more praise.
10 Before -He is the most important part of my life.
11 Christ Will Guard -I am His, He guards me for heaven.
Share Jesus
12 May I Never Boast -I will share my story, empowered, for His glory.
13 Beatitudes -I will live my life and serve as a witness.
14 Spirit, Rest on Them -I will pray for others.
15 Look on Jesus -I will love others as He loves me.
16 Our Part -I will seek, begin and do what I can.
17 He Came in History -I will believe in, live for and share Jesus.

---

Come, Shout, Dance!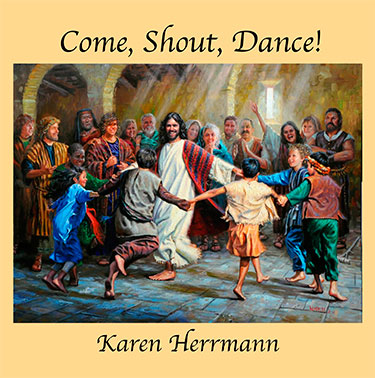 Click Here for more information and to purchase
---
Be Found Standing CD
Click Here to purchase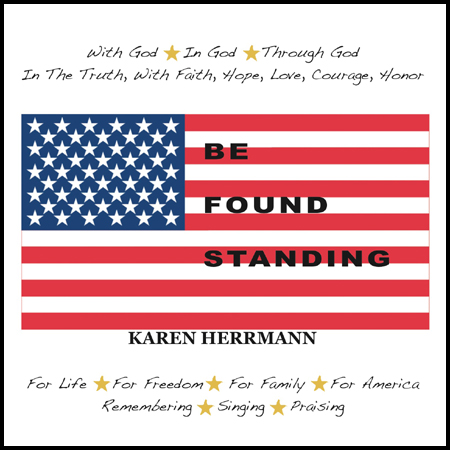 THE MAKING OF BE FOUND STANDING
My eyes weren't yet open one morning in July, 2010, as I began praying for our country, and that prayer welled up in my heart, inspired by God's Holy Spirit and Change the Hearts was born! I wrote the song sitting there on the edge of the bed, the song being downloaded, as it were, onto paper and I sat there in awe at the end, having heard it first! WOW….I wanted to use it and did, part of it that is, in my parish that summer. Then in June, 2011, as I was thinking and praying for Israel,We Bless You, Israel was written.
I have composed hundreds of songs and here I was with songs I was beginning to feel were for our country – for America. As time and prayers continued for our country and Israel, God's Spirit nudged me and Glenn Beck's encouragement to his GBTV audience to "use your gifts" sparked something in my soul. Then in his program of Oct. 13, 2011, he ended his monologue with words he said he felt he heard……"and sing songs!" I laughed out loud at how God was, at that very moment, confirming what I was sensing in my heart…….to record a CD for the USA!!
I remember being at a meeting, concentrating on what was going on but a song title came to mind! Back to focusing on what was going on….but then another "beep" from the Holy Spirit and another song title. This happened several more times!
After I got home I tried to remember the songs and realized there was a theme. As this theme took shape from that Fall, until I finished recording in May, 2012, the Holy Spirit was right there. With new music, some songs I'd previously written and recorded, Susan Potvins's Stand For Life and The Battle Hymn of the Republic, a CD for the country came together……….BE FOUND STANDING
The night before I recorded the song, We Bless You, Israel, I sang it to a Messianic Jewish friend of mine, Annette Baber, in Illinois, who loved it! We had a wonderful conversation after she received the finished CD (which she also loved) and at the end she prayed a blessing on me, the CD, my ministry and family.
I saw the CD front in my mind, drew it on paper, and Mike Ofca did the graphics.
Mike runs Innovation Studios in Steubenville, Ohio, and BE FOUND STANDING is my tenth CD that we have done. I say "we" because I have been given a gift from God in Mike. His talent and musicianship, producing and engineering gifts have added flesh to the bones of my melodies! Though our viewpoints differ on some things, I am convinced that God is more than able to use anyone of us for His purposes! I love seeing what God can do with a few loaves and fishes! And that's what I feel like He's done since that simple prayer 2 years ago.
SO LET US SING SONGS that encourage Americans:
….to stand with a deeper faith and love of God (1,2)
….to stand while remembering God's works (3,4)
….to stand in prayer and loving service with Israel and all people (5,6,7)
….to stand together, without fear, trusting in God's power and faithfulness as we work to bring forth the Kingdom of God (8,9,10,11,12,13,14)
IT IS MY PRAYER THAT GOD BE HONORED HERE, THAT THIS GREAT COUNTRY OF OURS TURN BACK TO HIM, WALK IN TRUTH AND LOVE, AND THAT ALL FAITH-FILLED BELIEVERS BE STRENGTHENED TO ………..BE FOUND STANDING
---
"Now Your Love I See" New music from Karen Herrmann!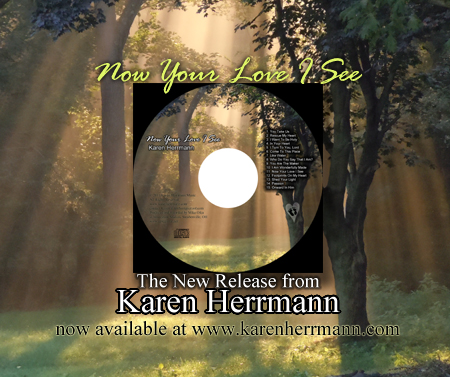 Click Here for more information.
THE STORY OF NOW YOUR LOVE I SEE (the CD)
As I recorded my music over the last 5 years, I was struck by some songs as being (I thought) very appropriate for women who have had abortions. The desire grew and so, when Mike Ofca my good friend, musician and producer of my music asked if there was something I wanted to do after finishing the SHOW YOUR POWER CD in Aug., 2010, I realized I had already recorded a good amount of music to compile onto a CD for post-abortion ministry. So I have put together this CD, with 15 songs, 13 of which are on other CDs although we did make some musical changes in some of the songs.

NOW YOUR LOVE I SEE (the song) I wrote in 1979!!! And probably a lot of you reading this were many years from being born!!! As I looked at the words of the song a few years back, it struck me that with minor word changes it could be the child who is singing from heaven. Who would have thought that 30 years after the original song was written, new words would minister to women in the new millennium?!!! God never ceases to amaze me!

FOOTPRINTS ON MY HEART was in my head one morning in April, 2011 when I woke up. And with my eyes still shut, I saw a heart with the little 10 week pre-born footprints on it.

I know without a doubt that God has inspired all of these songs.He has shown me that He wants to use Mike and me and our instruments of music-making to bring life and healing to a new group of people whom we have not thus far touched. I am humbled as I see how He is working in and through us. As we were finishing this project, Mike had to call someone across the country about something totally unrelated to what we were doing, and she "just so happened" to be working in post-abortion ministry…..Mike had no idea…….God did !! Praise His Name!

---
The Belize Project
Karen's highly acclaimed music series "The Belize Project" is now available on the web! Please visit the store, where you can purchase Karen's music and have it delivered to your door!